If You Want An Uncontested Divorce Then Ask The Right Questions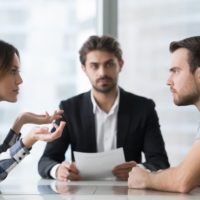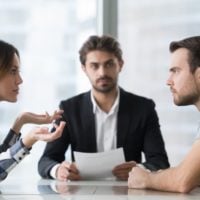 Divorce is a very difficult life event to deal with. This is made significantly more traumatic when the parties to the case cannot agree on major legal issues in the case. For this reason, it is important to use your most diligent efforts to obtain an uncontested divorce whenever possible.
An uncontested divorce occurs when the parties are in agreement on all the issues in a case and they are able to sign a divorce settlement agreement that resolves all the issues. This removes all of the conflict and emotional damage that come about in more contested dissolution cases.
Do Not Try to Settle The Case Too Early
One of the biggest mistakes that I see people make is where they try too hard to settle their case before the time is right. The most common scenario we see is when the spouse will talk to the other spouse about whatever their burning issue is trying to reach a verbal agreement before the case is filed, lawyers are involved, or anyone is even ready to put an agreement in writing.
Let's use the example of a divorce involving alimony. Though I am using a Husband in an alimony case for this example it can easily be switched with a Wife in another type of case such as child custody.
In this example, nobody has hired divorce attorneys and the parties have only recently started discussing divorce. The Husband desperately wants to settle the issue of alimony because he has heard horror stories about men in his position being raked over the coals.
The Husband constantly harasses the Wife with verbal proposals on what he is willing to pay for alimony and ultimately offers to pay $1,000.00 per month in alimony and that this was the highest amount that he could possibly agree to.
Remember: Verbal Agreements in Divorce Rarely Mean Anything
The problem here is that the Husband gave the other party too much information about his bottom line. When the Wife tells her lawyer that the Husband is willing to pay $1,000.00 per month the lawyer is going to view that as the starting point for negotiation and will set their mind on obtaining an amount higher than that.
Even though the Husband's intention was for $1,000.00 to be the highest amount he could pay, it is a safe bet that the opposing lawyer will not see it that way. The Husband gave away too much information early in the case about what he was willing to pay and by doing that he lost a lot of his negotiating power on that legal issue.
When talking to your spouse about settlement terms focus on gathering information not giving it away
What the Husband in this hypothetical situation should have done was to ask the Wife some gentle, open-ended, but probing questions to find out what her expectations were on the issue of alimony.
He could have asked her questions such as, "how much do you think you deserve?", or " How much do you think I can afford to pay?", and even "What do you believe would be a reasonable amount of alimony in this case?"
That is the point where the Husband should take those answers and sit down with an Orlando divorce attorney and draft a comprehensive divorce settlement agreement to present to the Wife for her review and signature.
In summary, one of the biggest mistakes that we see people make in divorce negotiations is trying to settle the case verbally with their spouse too early in the process. Instead of gathering information and then sitting down with their lawyer to craft a proposed settlement, they give away too much information that takes away their negotiating power and makes the case ultimately more difficult for them.
If you are going through a divorce in central Florida then call Sean Smallwood, P.A. today to schedule a consultation with an experienced divorce lawyer to discuss your rights today. We serve all areas of Orlando, FL.